Abba on their extraordinary reunion
Abba on their extraordinary reunion: 'We are confronted by our younger selves all the time'
It started with a mysterious image on billboards all over the world. The sun rising above four dark planets; the only words Abba: Voyage. By the time an announcement was made on 2 September, it had fair claim to call itself the most anticipated comeback in pop history.
Here we go again! After nearly 40 years, Benny, Björn, Agnetha and Anni-Frid are back together. We get the inside story of the greatest reunion in pop
And the details exceeded expectations. Not only was there a new album, Voyage, the first in 40 years: 10 new songs that brought the original band together in the studio for the first time since a split that had been precipitated by the couples in the band divorcing.
Not only that, but there was to be a new "immersive live experience", in a bespoke stadium in London – nobody seemed to have noticed the planning application being published online – featuring futuristic de-aged "Abbatars" playing a potentially never-ending series of gigs. In the depths of a miserable year, it seemed, Abba were coming to rescue 2021.
The promotion machine went into full swing. The Sydney Harbour Bridge was illuminated in their honour (Abba were always huge in Australia) and BBC radio moved their 6pm news bulletin in order to premiere two new tracks, I Still Have Faith in You and Don't Shut Me Down. Online, there was footage of crowds listening to the songs for the first time: in a hot spring in Iceland; in Stockholm's Gröna Lund amusement park; in front of St Stephen's Cathedral in Vienna.
Some of them were in tears. Somewhere in London, there were Björn Ulvaeus and Benny Andersson, being interviewed by Zoe Ball, Andersson allowing himself a rare moment of self-congratulation while discussing how they wrote Mamma Mia in 1975 when the band were still widely assumed to be a one-hit wonder, boosted to brief fame by winning the Eurovision song contest. The chorus, he enthused, where they had the idea of dropping all the music out and just leaving the vocals, "it was," he smiled, "so clever." Within three days, the album received 80,000 pre-orders in the UK alone.
It all made for a striking contrast with footage of Abba's final public appearance, in November 1982, on Noel Edmonds' Late Late Breakfast Show. Ostensibly promoting a new greatest hits album, it is five of the most uncomfortable minutes of music television ever broadcast.
They sit, twitchy and oddly un-Abba-like, in their 80s clothes (skinny ties, headbands and, in the case of Anni-Frid Lyngstad, spiky, purple hair), gamely denying they are splitting up, despite the fact that the greatest hits collection has been released in lieu of a new Abba album they have abandoned, unfinished; despite the evident waning of their commercial success (their new single has struggled into the lower reaches of the Top 40, an unthinkable state of affairs even a year before, when they were enjoying their 18th consecutive Top 10 hit); and despite the fact that Abba visibly aren't enjoying being in Abba very much.
When asked for his favourite Abba song, Ulvaeus wearily notes that he's been told by the TV producers what to pick: The Winner Takes It All. Agnetha Fältskog is clearly sick of her pin-up status: "I'm not only a sexy bottom, you know," she complains. When the subject turns to Ulvaeus and Andersson's songwriting prowess, it precipitates an icy, brittle exchange between the recently divorced Andersson and Lyngstad. Benny and Björn wrote so many wonderful songs, she says. "Well, you never said that," snaps her ex-husband. "OK," she responds, with a mirthless chuckle. "So it's the first time." A few weeks later, Abba broke up, although a split was never publicly announced.
And that was supposed to be that. Hugely successful but critically reviled, Abba were not a band that anyone assumed would have any kind of afterlife, or be remembered as anything other than a joke – evidence that the 1970s were, as the Face magazine memorably put it, The Decade That Taste Forgot.
"In the 80s, it felt as if Abba was completely done. It was so uncool to like us"
Today, talking via Zoom in their first press interview since the Grand Reveal, Ulvaeus and Andersson say they thought exactly the same thing. "In the beginning of the 80s, when we stopped recording, it felt as though Abba was completely done, and there would be no more talk about it," Ulvaeus says. "It was actually dead. It was so uncool to like Abba."
"We had a little company, the four of us together," Andersson says. "Everything Abba earned went into that company and we split it four ways, no matter who did what. And then, when we said, 'Well, this is it, guys, let's do something else for a bit and then we can go back perhaps in a couple of years and see if we're still alive', that was that: we sold the company. We did not expect Abba to continue, I can promise you that."
Fältskog and Lyngstad, alas, are nowhere to be seen. Nor did they turn up to the announcement of Abba's return in London, instead releasing a couple of prepared quotes ("Such joy it was to work with the group again," Lyngstad offered). They are, I'm told, deeply involved with the Voyage live show, but the assurance that they wouldn't have to take part in promotional activities pertaining to Abba's reunion was part of their reason for agreeing to it in the first place. "They didn't take much persuasion, but we did have to tell both of them that they don't need to speak to you, Alexis," Andersson offers. "Not you personally," he adds, hastily, "but the media."
You have to say that this "trend-blind" approach appears to have worked. I Still Have Faith in You and Don't Shut Me Down were greeted with a peculiar combination of elation and a kind of collective sigh of relief: the former a big, bittersweet ballad in the vein of Thank You for the Music or The Winner Takes It All, the latter a fresh example of Abba's idiosyncratic approach to disco, à la Dancing Queen.
Perhaps their rapturous reception was potentiated by events of the preceding 18 months, a musical equivalent of the line that keeps appearing on posters outside West End theatres at the moment: "The show we all need right now." We live in very uncertain times, and there's a distinct sense that people want something comforting and reliable from entertainment. And here were Abba, 40 years on, sounding exactly like Abba, the way you remembered them from your childhood or your youth.
FG Renames National Arts Theatre
The Federal Government says the National Theatre in Iganmu, Lagos, which is under renovation, will be known as Lagos Creative and Entertainment Centre, upon completion.
The Minister of Information and Culture, Alhaji Lai Mohammed, disclosed this on Tuesday in Madrid, Spain while signing an agreement on Nigeria's hosting of the first Global Conference on Cultural Tourism and Creative Industry.
The News Agency of Nigeria reports the bilateral agreement was signed between Nigeria and United Nations World Tourism Organisation (UNWTO) at the organisation's headquarters.
Mohammed disclosed that the global conference, which would hold from 14 to 17 November, would be the first event to be staged at the newly refurbished edifice.
"Nigeria will be hosting the event at the National Theatre in Lagos, which is currently being renovated at a cost of 100 million dollars under a partnership between the Federal Government of Nigeria and the Bankers' Committee/Central Bank of Nigeria.
"It is the first of such renovation of the iconic edifice in over four decades.
"In addition to the renovation, new hubs are being constructed, within the premises of the National Theatre, for fashion, information, technology, film and music.
"With that, the National Theatre is now known as the Lagos Creative and Entertainment Centre.
"In addition, the Lagos surface rail system, to serve the National Theatre, will be commissioned ahead of the Global Conference,'' he said
Mohammed said the signing of the bilateral agreement signified Nigeria's commitment to host the event.
He, therefore, directed that the contractors handling the reconstruction project must ensure its prompt delivery for the global event.
The minister added that in an effort to ensure that the complex is ready for hosting in November, he recently undertook an inspection tour of ongoing work there with stakeholders.
The stakeholders on the inspection tour, according to the minister, were Lagos Governor, Babajide Sanwoolu; the Governor of Central Bank of Nigeria, Godwin Emefiele and the Minister of Sports and Youth Development, Sunday Dare.
According to the minister, there was every indication that the venue would be ready early enough to host the global conference.
VISIT US: @theharmattan1
The Nigerian Ambassador to Spain, Mr Ademola Seriki, who said he is a member of the Board of Directors of the company handling the reconstruction project, said the edifice would be completed before the global event.
Seriki, who accompanied the Minister to the bilateral agreement signing ceremony, thanked the UNWTO for giving Nigeria the right to host the maiden global conference.
He said the conference would bring a huge reputation to the country and assert Nigeria's lead in music, theatre and other areas of entertainment in Africa.
The Director-General, Nigeria Tourism Development Corporation, Mr Folorunsho Coker, was in the entourage of the minister.
The National Theatre, an iconic centre for performing arts, was established to preserve, present and promote arts and culture in Nigeria.
The construction of the monument was completed in 1976 in preparation for the Festival of Arts and Culture hosted in 1977.
Stolen Roman statue returned to France after 50 years
Art detective Arthur Brand traced the statue to the museum when a client was offered it by an Austrian collector.
"Fifty years after a theft it's unheard of that something comes back – normally it's been destroyed," he told the BBC.
The 40cm-high (15.7in) statue was dug up on the site of the Gallo-Roman village of Vertillum in eastern France in 1894 and years later featured in a Paris exhibition of France's finest art pieces.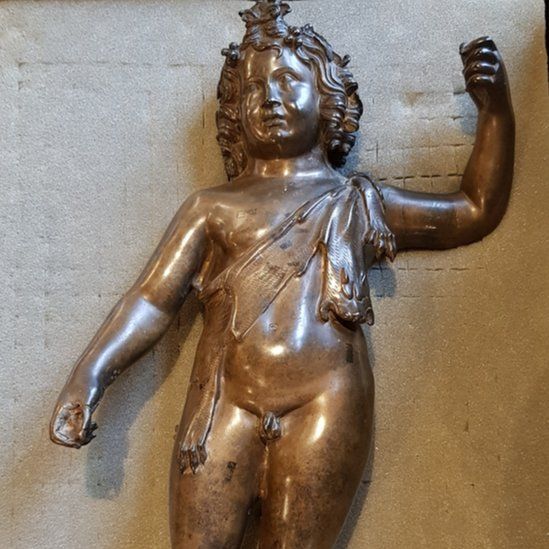 When Mr Brand handed the statue back to the Musée du Pays Châtillonnais this week, director Catherine Monnet said she realised how much more beautiful it was than the copy that had been put on display.
The Dutch art sleuth, who has built a reputation for tracking down stolen masterpieces around the world, said the museum was "flabbergasted" when he told them he had traced their missing statue.
He described how he had been contacted by a client who wanted to know more about the statue after he was offered it by an Austrian collector, who had bought it legally and in good faith.
There were no databases in 1973 but Mr Brand eventually found a reference to it in an archaeology magazine dating back to 1927, and French police then found their report from the time of the theft.
"I contacted the collector. He didn't want to have a stolen piece in his collection so he wanted to give it back, but French law dictates that a small amount has to be paid for safekeeping."
That small amount in relation to the statue's value is still a considerable sum of money.
While half was paid by the local authority in Chatillon, the rest was provided by an auction house specialising in ancient art in the English port town of Harwich. "The piece belongs in the museum so it's only right people can get together and make that happen," said Aaron Hammond of Timeline Auctions.
According to Mr Brand, the museum director cried tears of joy when she saw the statue: "I thought she was going to drop it she was so nervous."
Thierry Mugler, iconic French fashion designer, dies aged 73
Mugler's daring collections came to define 1980s power dressing, while he later dressed Beyoncé and Lady Gaga.
French designer Manfred Thierry Mugler, known for the powerful-shouldered, cinch-waisted silhouettes that reigned over fashion in the 1980s, died on Sunday at the age of 73 of "natural causes", according to his agent.
A former ballet dancer, Mugler's bold collections – presented at highly stylised, themed runway shows – were at the forefront of the structured, decadent style that came to be known as "power dressing".
"He was timeless and ahead of his time," supermodel Jerry Hall – the face of his bestselling Angel perfume – said of the designer in 2019. "He knew all about gender fluidity and his clothes reflected the heat and sexuality of the late 70s and early 80s," she told the New York Times.
Though Mugler retired from the label that bore his name in 2002, he did not give up on making clothes. He was responsible for Beyoncé's science fiction-inflected Sasha Fierce looks in the late 2000s. He also created costumes for Lady Gaga and Cardi B. In 2019, he created Kim Kardashian's Met Gala look, a latex dress dripping in crystals.
"We are devastated to announce the passing of Mr Manfred Thierry Mugler on Sunday January 23rd 2022," said a post on the designer's official Facebook account.
Born in Strasbourg in December 1948, he arrived in Paris aged 20 and created his own label "Cafe de Paris" in 1973, a year before founding Thierry Mugler.
The LGBTQ community was a frequent source of talent and inspiration for the designer. Mugler cast trans models in his runway shows as early as the 1980s, and frequently collaborated with drag artists and club kids on and off the runway, including corsetmaker Mr Pearl.
By the late 1990s, the Mugler name was associated more with fragrance than fashion, thanks to his blockbuster perfume Angel. The rights to his name were acquired by cosmetics giant Clarins in 1997, and that fragrance and its offshoots, remain bestsellers.
In 2002, the fashion division of Mugler shut down but the brand was revived in 2010 under the creative direction of stylist Nicola Formichetti and later Casey Cadwallader.
Mugler's use of corsetry and his exaggerated approach to the female body has drawn criticism, but the designer was no less extreme with his own physique. In 2019, the normally reclusive designer posed for a nude photoshoot with Interview Magazine and discussed his exhaustive body-building routine and cosmetic surgeries. "I think it's important for people to be a complete realisation of themselves. I have always been fascinated by the human body, and I wanted to pay homage to what it can do," he said.
In 2019, the designer was the subject of a major retrospective exhibition, Thierry Mugler: Couturissime, which debuted in Montreal before touring to Paris in 2021.
The designer had been due to announce new collaborations early this week, his agent Jean-Baptiste Rougeot told Agence France-Presse.