The Nigerian fish market where gods and commerce meet
The Nigerian fish market where gods and commerce meet
The all-women fish market appoints a 'mother of wealth' to pray for their good fortune – and in this recession-hit country the role is more important than ever
Folasade Ojikutu wears a traditional white lace dress for her work at the lagoon dock behind Oluwo market in Epe. The small town is home to one of the largest and most popular fish markets in Lagos – and almost all 300 traders are women. Many are from families who have sold fish here for generations, and Ojikutu, 47, is their "Iya Alaje", meaning the mother or carrier of wealth.
As she strides past a small waterfront shrine, dozens of women fishing waist-deep in the water chant and hail her, calling out "Aje"- in part a reference to the Yoruba goddess of wealth. Every day, hundreds of people travel, sometimes for hours, to buy fish at Epe market, as it is commonly known, where the spiritual and commercial merge. And the mainly women traders look to Ojikutu– who acts as an intercessor, praying for good fortune, alongside managing affairs at the market.
The women that you see here, they do it all. When we sell, we eat, we feed our children
Bola Ajakorin, market seller
"It was the Ifá [Yoruba priest] that chose me, in 2016. He is the one that chooses the Iya Alaje," Ojikutu says. Most markets in Lagos have an Iya Alaje, she explains, a market leader that is in some cases chosen by a priest, according to Yoruba tradition. "The day the Ifa came, I wasn't here but he told them my name, my appearance, then they came and found me. I was panicking, weeping. I didn't want it, I saw it as a burden. But the women insisted and here I am."
In Nigeria's complex religious landscape, blends of indigenous religions with Islam and Christianity are often demonised by mainstream clerics. Yet the enduring importance of traditional religious beliefs are seen in markets like Epe. For Ojikutu, a Christian in belief, and a Muslim by marriage who keeps two shrines in the market, there is harmony in her prayers to God and to Aje.
"The Bible says your faith will make you whole. When I get to the Aje, I pray for good favour for the women. When I get to the mosque, I pray to God that our prayers will be answered. We call God here. We call God at the mosque, too. So we don't need to criticise this at all, it's our heritage."
"This morning, [Ojikutu] prayed for us. That we will sell, that we will make enough to eat, to drink, to spend, to progress," she says. "She will pray, and then we will shout, 'ajeee oooooh'." The women around echo her chant.
Ajakorin has sold fish at Epe for 30 years, taking over from her mother, whose parents were fishers, too. "It's in our family to be here," she says.
Like many of the women, she is the main breadwinner, supporting seven children and her retired husband.
"The women that you see here, they do it all. When we sell, we eat, we feed our children. Those of us that have mothers, fathers, we're feeding them. Our siblings. That's what we do.
"This job has been great for us, but it's hard," she says, describing how Africa's largest economy has suffered in recent years.
Two recessions since 2016, rising food prices and the cost of living have pushed millions of Nigerians into poverty. "Things that people bought for 10,000 naira [£18] in Lagos are now 20,000 or 30,000 naira. Everything is expensive, so people have less money for fish than before," says Ajakorin.
Mrs Abdullahi, 54, wears a green T-shirt and yellow wrapper and displays a fish almost as big as herself on her chopping board. "This one is even small," she laughs.
Along the aisles, women cut and carry, some sitting high on top of freezers, peering down on their trays of fish and shrimp. They talk about how working at the market is in their blood.
"Since the time that I've been in school, I've been here, following my mother to the market," says Abdullahi. "We've sent our kids to school, to university. And the little [money] that's left, we've used for our car, our food, our home. You know the situation of the country. But we manage and we thank God."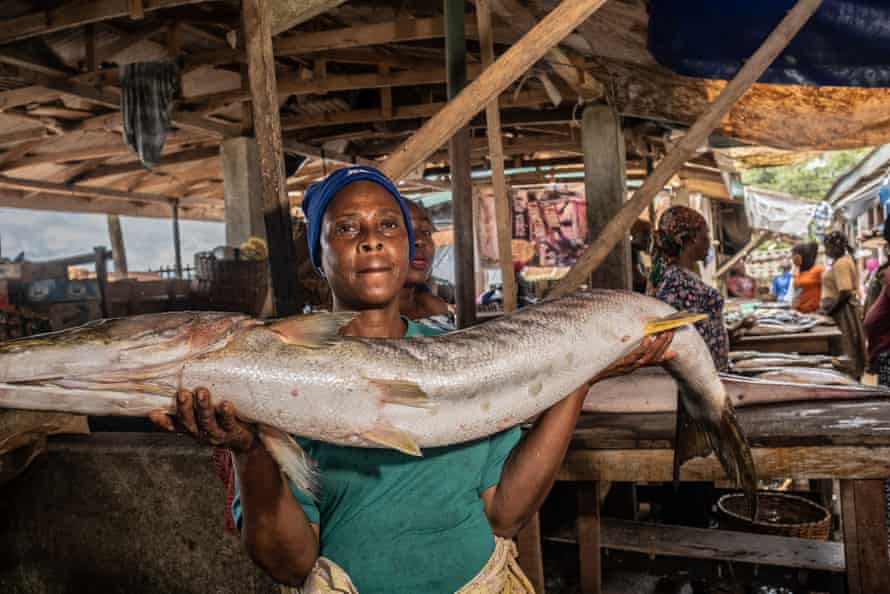 Abdullahi says women have become the dominant traders because men demean the work, seeing fishing as more respectable.
"Men go and kill the fish, even women go and kill, too, but mainly men. But it's the women that buy it from them. Men look at it like it's dirty work, but for us, it's not dirty work.
"If I get my fish, I can sell it here. I can drive my car and take it to Ijora [a settlement in Lagos], call my customers and tell them what's on the ground – orange fish, yellowtail, catfish, tilapia. I have that freedom to go here and go there."
The hundreds of market women with deep roots to the area form a support network, says 50-year-old Lawal Bolanle, who has sold fish at Epe since she was 15. "We do many things," she says, including 'ajo' – a communal saving system, where people put a monthly sum into a shared pot, and one person receives that amount on rotation. "We join hands and help each other in different ways.
"Among us, there are some who have other businesses. Let's say a shop. They'll open their shop. Then come here and sell fish, then go back, close their shop and go home. But most women in the market, we work and we don't have anything else.
"Some have a baby but no husband. Or a husband who is sick or has died. But then you'll come here, God will perform wonders, you'll find food to eat, go home and attend to your children," says Bolanle.
We support each other. You can find money and say to a woman, here, take a bit, source fish to sell, to help yourself
Lawal Bolanle
"We support each other. When an elder sister here comes to us and says she has a situation that is pressing, we will quickly call each other and say, look, we don't want this situation to pull her to the grave. You can find money and say to a woman, here, take a bit, source fish to sell, to help yourself," she says
Oluwakemi Sanwo, 45, has a modest display on wooden trays. She has cared for her seven children alone since her husband died of heart problems five years ago. "I don't have parents, my mother has died, my father has died. My husband's family stopped coming after he died. For my children, it's me that is the mother, it's me that is the father."
The market women have been a strength, she says. "For example, my friend here, when she sells a lot, they will give me 4,000 naira, 5,000 naira. I'll feed my children and keep some to buy fish to sell. Gradually, things are improving."
Islamic prayer beads, bibles open to psalms, candles wrapped with palm leaves, are laid on top of freezers and tucked in corners, behind trays or buckets of live seafood across the market. While at a shrine kept at the quieter far end of the market, a sacrifice is made in a small ceramic pot as Ojikutu kneels on a mat to pray.
"Of course, many pastors, imams, will say this is an evil practice," Ojikutu says. "It's the same God that we are worshipping. Everyone has a spirit. For some, their spirits will match together. Those with clean hearts, that work together, it's from that which good things happen. That's what we believe."
UK's Truss defends economic plan that sent pound tumbling
British Prime Minister Liz Truss on Thursday defended her economic plan and shrugged off the negative reaction from financial markets, saying she's willing to make "difficult decisions" to get the economy growing.
In her first public comments since the government's announcement of billions in uncosted tax cuts roiled markets and drove the pound to record lows, Truss said Britain was facing "very, very difficult economic times." But she said the problems were global and spurred by Russia's invasion of Ukraine.
She spoke after the Bank of England took emergency action Wednesday to stabilize U.K. financial markets and head off a crisis in the broader economy after the government spooked investors with a program of unfunded tax cuts, sending the pound tumbling and the cost of government debt soaring.
Truss told BBC local radio that "we had to take urgent action to get our economy growing, get Britain moving and also deal with inflation."
"Of course lots of measures we have announced won't happen overnight. We won't see growth come through overnight," she said. "What is important is that we are putting this country on a better trajectory for the long term."
In a series of interviews, Truss said her government's decision to cap energy bills for households and businesses would help tame inflation and help millions of people facing a cost of living crisis.
But it was not that decision that alarmed the markets. It was the government's announcement on Friday of an economic stimulus program that included 45 billion pounds ($48 billion) of tax cuts and no spending reductions — without an independent economic assessment of the cost and impact.
The Bank of England warned that crumbling confidence in the economy posed a "material risk to U.K. financial stability," and said it would buy long-term government bonds over the next two weeks to combat a recent slide in British financial assets.
The bank's former governor, Mark Carney said that the government and the central bank appeared to be pulling in different directions.
"Unfortunately having a partial budget, in these circumstances — tough global economy, tough financial market position, working at cross-purposes with the Bank — has led to quite dramatic moves in financial markets," he told the BBC.
The pound traded at around $1.08 on Thursday, above its record low of $1.0373 on Monday. It has lost some 4% of its value since Friday.
Stimulus Packages Provided During Pandemic Triggered Inflation- CBN
The Central Bank of Nigeria (CBN) has attributed the rising inflationary rates to the stimulus packages provided to citizens during and after the pandemic.
It added that although this increased spending, it also created global supply challenges.
CBN's director, Monetary Policy Department, Hassan Mahmoud, said this on Wednesday at a post-MPC briefing tagged: "Unveiling Facts behind the Figures''.
The Monetary Policy Committee had on Tuesday, unanimously voted to increase interest rate to 15.5 per cent.
"A lot of households and small businesses were injected with stimuluses; the U.S did two trillion dollars, Nigeria did about five trillion Naira, these increased the ability of people to spend.
"But the supply side could not meet up with the demand because that volume of injection was far more than the regular intake for those economies, this made prices go up,'' he said.
Mahmoud also blamed the Russian-Ukraine war, as well as the resurgence of COVID-19 in China for the rise in global inflationary trend.
"That region accounts for more than 50 per cent of global commodity supply and 38 per cent of global oil and gas supply. The war resulted in some shortages which made prices go up.
"Then the COVID-19 lockdown in China. The country is the largest importer of commodities across the globe,'' he added.
China's yuan slides to 14-year low against US dollar
China's yuan fell to a 14-year low against the dollar Wednesday despite US central bank efforts to stem the slide after U.S. interest rate hikes prompted traders to convert money into dollars in search of higher returns.
A weaker yuan helps Chinese exporters by making their goods cheaper abroad, but it encourages capital to flow out of the economy. That raises costs for Chinese borrowers and sets back the ruling Communist Party's efforts to boost weak economic growth.
The yuan fell to 7.2301 to the dollar, its lowest level since January 2008. One yuan was worth about 13.8 cents, down 15% from its March high.
The yuan has exceeded expectations it might fall to 7 to the dollar after the Federal Reserve started aggressive rate hikes to cool inflation that is at a four-decade high. The Fed has raised rates five times this year and says more increases are likely.
By contrast, the People's Bank of China has cut interest rates to boost growth that fell to 2.2% over a year earlier in the first six months of 2022 — less than half the official 5.5% target.
The yuan is allowed to fluctuate up or down 2% from its starting price each day in tightly controlled trading. That prevents big daily swings, but down days can add up to a big change over time.
To shore up the exchange rate, Beijing cut the amount of foreign currency deposits Chinese banks are required to hold as reserves to 6% from 8% as of Sept. 15. That increases the amount of dollars and other foreign currency available to buy yuan, which should push up the exchange rate.
Still, that reserve cut is unlikely to stop a slide that is driven by "a strong U.S. dollar and the expectation of more Federal Reserve hikes," said Iris Pang of ING in a report.
"Less aggressive rate hike talk" might help the yuan rally, but it might weaken further "if the Fed maintains its very hawkish tone" into next year, Pang wrote.
Chinese officials have previously promised to avoid "competitive devaluation" to gain an advantage in trade.
The yuan sank in 2019 during trade tension with then-President Donald Trump. That prompted suggestions Beijing was trying to reduce the impact of U.S. tariff hikes, but there was no official confirmation. The currency later strengthened.
Other governments also are struggling to manage capital flows under pressure from Fed rate hikes. On Friday, Vietnam's central bank raised a key interest rate in what economists said appeared to be an effort to stop an outflow of money in search of higher returns.