US passes one million Covid deaths
It's the highest official total in the world – although the World Health Organization believes the true death toll may be much higher elsewhere.
The US has also recorded more than 80 million Covid cases, out of a 330 million population.
The first confirmed case was reported on 20 January 2020, when a man flew home to Seattle from Wuhan in China.
The 35-year-old survived, after 10 days of pneumonia, coughs, fever, nausea and vomiting. But deaths began to be reported just a few weeks later.
In the two years since, death rates have ebbed and flowed as waves of the virus swept across the country – reaching highs of more than 4,000 a day in early 2021.
Public health experts give several reasons for the high US death toll – including high rates of obesity and hypertension, overworked hospital systems, some vaccine hesitancy and a large older population.
Each US state may have a slightly different way to define a Covid death, and such deaths are often not solely because of the virus.
When did the deaths take place?
The US has seen the number of daily reported deaths spike on several occasions, often coming as new variants spread across the country.
The first wave – the initial pandemic – saw highs of more than 2,500 daily reported deaths in April 2020, about eight months before the first vaccines were rolled out in December.
"The dangerous surges, where our hospitals were full and new deaths were overwhelming, have all come on the heels of new variants," Dr Mark Cameron, an associate professor in the department of population and quantitative health sciences at Case Western University in Ohio, told the BBC.
Most of the one million Americans who died during the pandemic lost their lives after the vaccines were introduced. That's down to the sheer scale of people still catching the virus – it does not mean the vaccines aren't working. Vaccines massively cut severe Covid risk.
A study from the Rand Corporation credited the jabs with saving 140,000 lives in the US by May 2021 alone.
A separate analysis by the Peterson Center for Healthcare and the Kaiser Family Foundation in April this year estimated that around a quarter of the US deaths – about 234,000 people – could have been prevented with vaccines.
"You can't necessarily simplify this to be a pandemic of the unvaccinated. Everyone knows someone who had the whole vaccination regimen and still got very sick," Dr Cameron added.
"But the data is clear, the risk of Covid-19 and death is higher in the unvaccinated."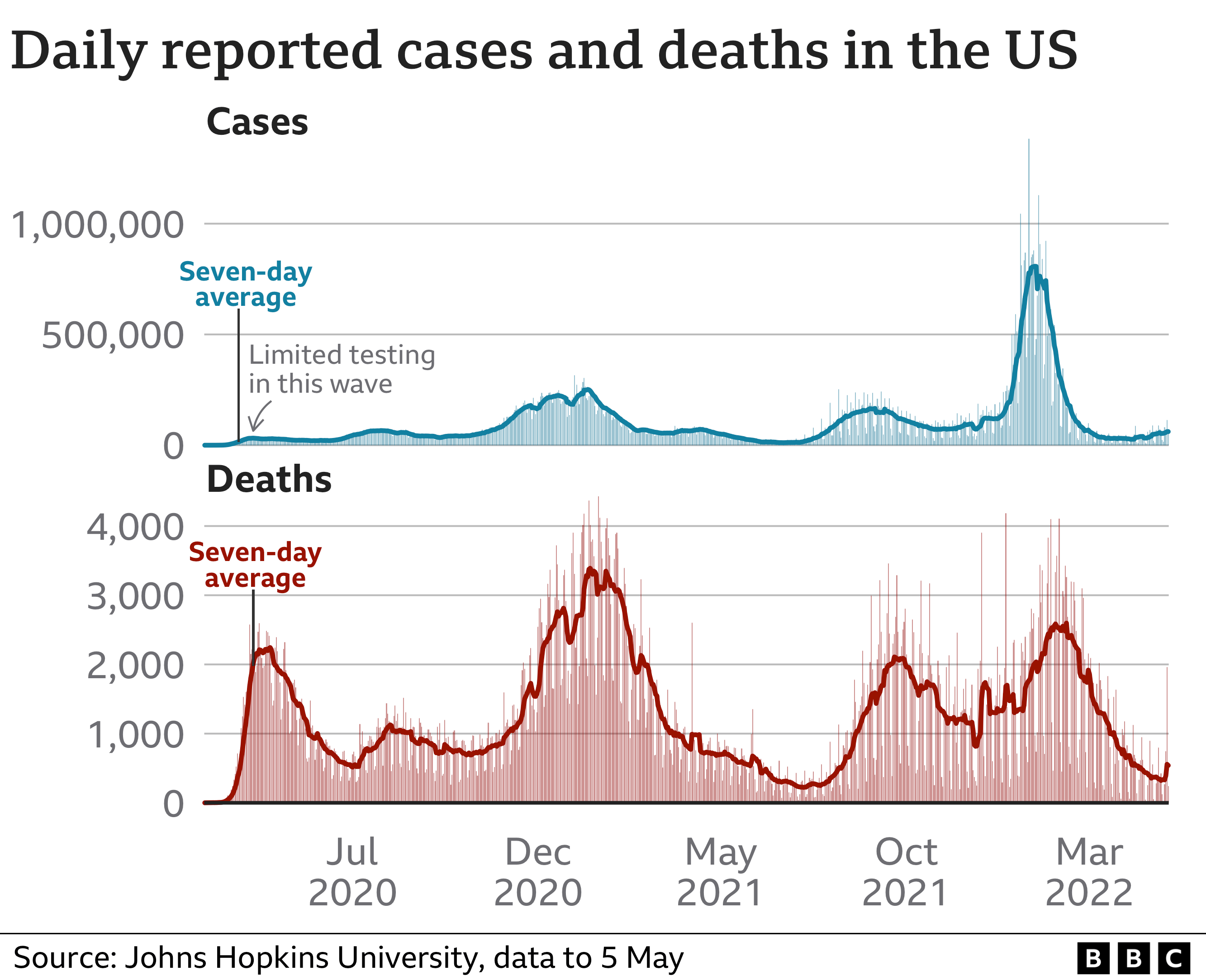 Where in the US did the deaths take place?
Of the 50 US states, the highest death toll has been reported in California, where about 90,000 people have died.
California is followed closely by Texas (about 86,000), Florida (about 74,000) and New York (about 68,000).
On a per capita basis, CDC data shows that Mississippi has suffered about 418 deaths per 100,000 residents, followed by Arizona (414), Alabama (399) and West Virginia (384).
The per capita death rate in these states far surpasses the average US national rate of about 300 per 100,000.
Experts point to several reasons why certain states suffered disproportionately, including unequal access to healthcare.
Brittany Kmush, an epidemiologist and global health expert at Syracuse University, said socio-economic status often affected "being able to access hospitals with oxygen and things like that when patients need them".
Dr Monica Gandhi, an infectious diseases physician and professor at the University of California San Francisco, said vaccine hesitancy also explains higher death tolls in certain states.
In her analysis, shortcomings in vaccinations have contributed more to the US death toll than other public health measures, such as masking or isolation.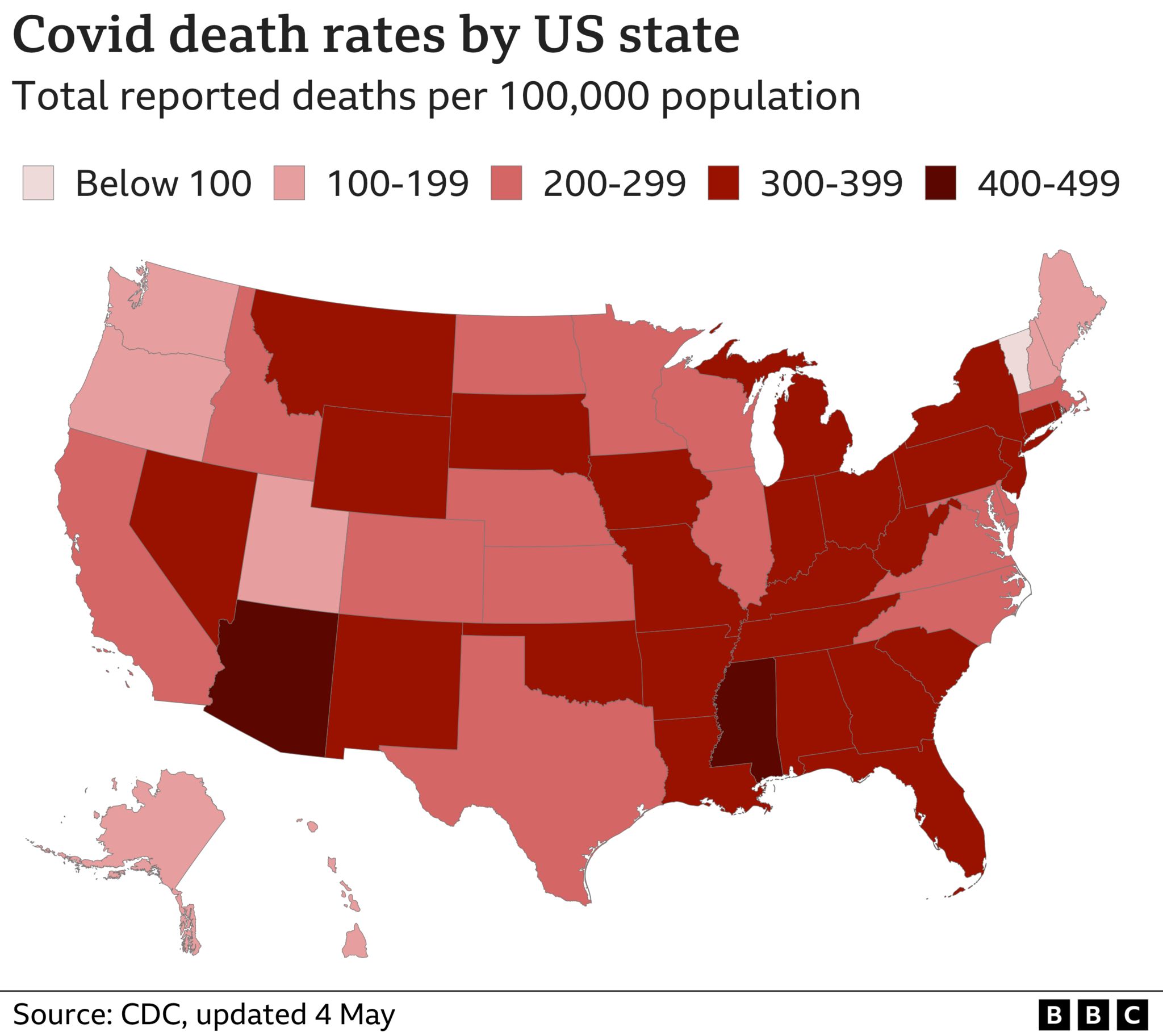 While deaths have been reported across all age and ethnic groups, experts note that certain sectors of the population have been more likely to die – particularly the elderly and those with co-morbidities.
Government data shows the vast majority of Covid deaths in the US – about 740,000 – have been among those older than 65.
"Looking at severe illness and death, the demographics haven't changed throughout the pandemic. It has always been older adults, and those with co-morbidities especially," Dr Cameron explained.
CDC data analysed by the Kaiser Family Foundation shows that overall – particularly in the early stages of the pandemic in 2020 – black, Hispanic and Native American populations experienced higher rates of both infection and death.
Public health experts cite a range of reasons, including vaccine hesitancy among some groups, and an elevated risk of exposure due to working and living conditions.
"Part of that is being unable to separate yourself from work," Dr Gandhi said.
"And even after the vaccine, there was some scepticism in some of our black and Hispanic populations about taking up the vaccine. But there was a lot more acceptance after Delta. That really scared people."
While the death toll from Covid-19 now officially exceeds one million, the indirect toll of the virus is likely to be far higher, as a result of disrupted health systems and a hesitancy to seek medical attention for fear of catching the virus.
One study, published in the journal PLOS Medicine in May 2021, found that for every 100 deaths directly assigned to Covid, another 20 "excess" deaths occurred that were not – many of them in areas with "lower socio-economic status".
A study released on Thursday by the World Health Organization put the figure at 140 excess deaths per 100,000 people during 2020 and 2021 – totalling about 930,000 more lives lost than would have been expected on average.
"People were waiting for surgery and not seeing their doctors, and [there were] missed opportunities for serious disease diagnoses," Dr Cameron said, adding that this was particularly true for those aged between 25 and 64.
"It will be years before we even come close to understanding the impact Covid-19 had on our overall morbidity and mortality rates."
Covid Vaccines Saved 20 Million Lives In First Year – Study
Covid vaccines prevented nearly 20 million deaths in the first year after they were introduced, according to the first large modelling study on the topic released Friday.
The study, published in The Lancet Infectious Diseases, is based on data from 185 countries and territories collected from December 8, 2020 to December 8, 2021.
It is the first attempt to estimate the number of deaths prevented directly and indirectly as a result of Covid-19 vaccinations.
It found that 19.8 million deaths were prevented out of a potential 31.4 million deaths that would have occurred if no vaccines were available.
It was a 63 percent reduction, the study found.
The study used official figures — or estimates when official data was not available — for deaths from Covid, as well as total excess deaths from each country.
Excess mortality is the difference between the total number of people who died from all causes and the number of deaths expected based on past data.
These analyses were compared with a hypothetical alternative scenario in which no vaccine was administered.
The model accounted for variation in vaccination rates across countries, as well as differences in vaccine effectiveness based on the types of vaccines known to have been primarily used in each country.
China was not included in the study because of its large population and strict containment measures, which would have skewed the results, it said.
The study found that high- and middle-income countries accounted for the largest number of deaths averted, 12.2 million out of 19.8 million, reflecting inequalities in access to vaccines worldwide.
Nearly 600,000 additional deaths could have been prevented if the World Health Organization's (WHO) goal of vaccinating 40 percent of each country's population by the end of 2021 had been met, it concluded.
"Millions of lives have probably been saved by making vaccines available to people around the world," said lead study author Oliver Watson of Imperial College London.
"We could have done more," he said.
Covid has officially killed more than 6.3 million people globally, according to the WHO.
But the organisation said last month the real number could be as high as 15 million when all direct and indirect causes are accounted for.
The figures are extremely sensitive due to how they reflect on the handling of the crisis by authorities around the world.
The virus is on the rise again in some places, including in Europe, which is seeing a warm-weather resurgence blamed in part on Omicron subvariants.
AFP
WHO considers declaring monkeypox a global health emergency
As the World Health Organization convenes its emergency committee Thursday to consider if the spiraling outbreak of monkeypox warrants being declared a global emergency, some experts say WHO's decision to act only after the disease spilled into the West could entrench the grotesque inequities that arose between rich and poor countries during the coronavirus pandemic.
Declaring monkeypox to be a global emergency would mean the U.N. health agency considers the outbreak to be an "extraordinary event" and that the disease is at risk of spreading across even more borders. It would also give monkeypox the same distinction as the COVID-19 pandemic and the ongoing effort to eradicate polio.
Many scientists doubt any such declaration would help to curb the epidemic, since the developed countries recording the most recent cases are already moving quickly to shut it down.
Last week, WHO Director-General Tedros Adhanom Ghebreyesus described the recent monkeypox epidemic identified in more than 40 countries, mostly in Europe, as "unusual and concerning." Monkeypox has sickened people for decades in central and west Africa, where one version of the disease kills up to 10% of people. In the epidemic beyond Africa so far, no deaths have been reported.
"If WHO was really worried about monkeypox spread, they could have convened their emergency committee years ago when it reemerged in Nigeria in 2017 and no one knew why we suddenly had hundreds of cases," said Oyewale Tomori, a Nigerian virologist who sits on several WHO advisory groups. "It is a bit curious that WHO only called their experts when the disease showed up in white countries," he said.
Until last month, monkeypox had not caused sizeable outbreaks beyond Africa. Scientists haven't found any major genetic changes in the virus and a leading adviser to WHO said last month the surge of cases in Europe was likely tied to sexual activity among gay and bisexual men at two raves in Spain and Belgium.
To date, the U.S. Centers for Disease Control and Prevention has confirmed more than 3,300 cases of monkeypox in 42 countries where the virus hasn't been typically seen. More than 80% of cases are in Europe. Meanwhile, Africa has already seen more than 1,400 cases this year, including 62 deaths.
David Fidler, a senior fellow in global health at the Council on Foreign Relations, said WHO's newfound attention to monkeypox amid its spread beyond Africa could inadvertently worsen the divide between rich and poor countries seen during COVID-19.
"There may be legitimate reasons why WHO only raised the alarm when monkeypox spread to rich countries, but to poor countries, that looks like a double standard," Fidler said. He said the global community was still struggling to ensure the world's poor were vaccinated against the coronavirus and that it was unclear if Africans even wanted monkeypox vaccines, given competing priorities like malaria and HIV.
"Unless African governments specifically ask for vaccines, it might be a bit patronizing to send them because it's in the West's interest to stop monkeypox from being exported," Fidler said.
WHO has also proposed creating a vaccine-sharing mechanism to help affected countries, which could see doses go to rich countries like Britain, which has the biggest monkeypox outbreak beyond Africa — and recently widened its use of vaccines.
To date, the vast majority of cases in Europe have been in men who are gay or bisexual, or other men who have sex with men, but scientists warn anyone in close contact with an infected person or their clothing or bedsheets is at risk of infection, regardless of their sexual orientation. People with monkeypox often experience symptoms like fever, body aches and a rash; most recover within weeks without needing medical care.
Even if WHO announces monkeypox is a global emergency, it's unclear what impact that might have.
In January 2020, WHO declared that COVID-19 was an international emergency. But few countries took notice until March, when the organization described it as a pandemic, weeks after many other authorities did so. WHO was later slammed for its multiple missteps throughout the pandemic, which some experts said might be prompting a quicker monkeypox response.
"After COVID, WHO does not want to be the last to declare monkeypox an emergency," said Amanda Glassman, executive vice president at the Center for Global Development. "This may not rise to the level of a COVID-like emergency, but it is still a public health emergency that needs to be addressed."
Salim Abdool Karim, an epidemiologist and vice chancellor at the University of KwaZulu-Natal in South Africa, said WHO and others should be doing more to stop monkeypox in Africa and elsewhere, but wasn't convinced that a global emergency declaration would help.
"There is this misplaced idea that Africa is this poor, helpless continent, when in fact, we do know how to deal with epidemics," said Abdool Karim. He said that stopping the outbreak ultimately depends on things like surveillance, isolating patients and public education.
"Maybe they need vaccines in Europe to stop monkeypox, but here, we have been able to control it with very simple measures," he said.
NMA urges NCDC to step up fight against Monkeypox
The Nigerian Medical Association (NMA) has urged the Nigeria Centre for Disease Control (NCDC) to step-up its efforts in educating and protecting Nigerians from the increasing cases of the ravaging Monkeypox disease.
It stressed that the Agency, which is saddled with the responsibility of disease prevention and control, must not lose sight of other infectious diseases like monkeypox, even as it focuses on COVID-19.
The doctors' association, while urging Nigerians to adhere strictly to the preventive measures of personal hygiene, especially hand hygiene because like monkeypox, COVID-19 is still very much in the country, and the situation can become worse if not handled properly, implored religious institutions – churches and mosques – to take up the responsibility of sensitising their followers about the disease.
Recall that yesterday the NCDC announced that the country has recorded 21 confirmed cases of the Monkeypox disease in the last five (5) months, with one death. Also, in the month of May, a total six (6) new confirmed positive cases were reported from four (4) states – Bayelsa (2), Adamawa (2), Lagos (1), and Rivers (1).
Globally, according to reports from the World Health Organization (WHO), as of 26 May, there have been a cumulative total of 257 laboratory confirmed cases, with around 120 suspected cases reported, from 23 non-endemic countries. However, no deaths have been reported.
Speaking with The Nation, the newly elected President of the NMA, Dr Uche Ojinmah, said: "We have the Nigeria Centre for Disease Control (NCDC) that has the responsibility of not just monitoring and controlling COVID-19, but every infectious disease. Therefore, they should step up to the plate. It is the business of the NCDC; they can link up with the Ministry of Information and get people aware.
"They need to start giving us data on this Monkeypox as it happens across the country. With the current awareness coming from a reputable government institution like that, people will sit up. We need to start directing our calls to the appropriate institution, which is the NCDC. We don't expect President Muhammadu Buhari to give us information on this. Let the NCDC step up to the plate and do their job.
"The Nigeria Centre for Disease Control needs to understand that it is not only COVID-19; it is important. It is however necessary to be combined in the sensitisation of the people. The media also have a role to play in sensitisation. The government needs to bring the will, but we all in our little ways can contribute.
"We have a bit of a problem in this country; we initiate measures, achieve a positive response, and we drop our guards. In 2015 when Ebola came, we took it on as a nation, and we got rid of it, and everybody went back to their normal lives. COVID-19 has come and with us, if you check even in flights now, you force people to wear their masks. Nigerians, therefore, need to be serious and the government needs to play a role.
"Monkeypox is here now and everybody pretends they don't know – until it becomes a problem. I also expected that the government, civil society, and non- governmental organisations should have started spreading the message by now. Our churches and mosques should take up this course now that it has not become a disaster.
"Doctors should also start to educate patients they see that do not have it. We need to start now to prepare the minds of our people; it may not be as bad as Ebola or COVID-19, but it is still a problem. So, the earlier we start preventive measures, the better we will be."